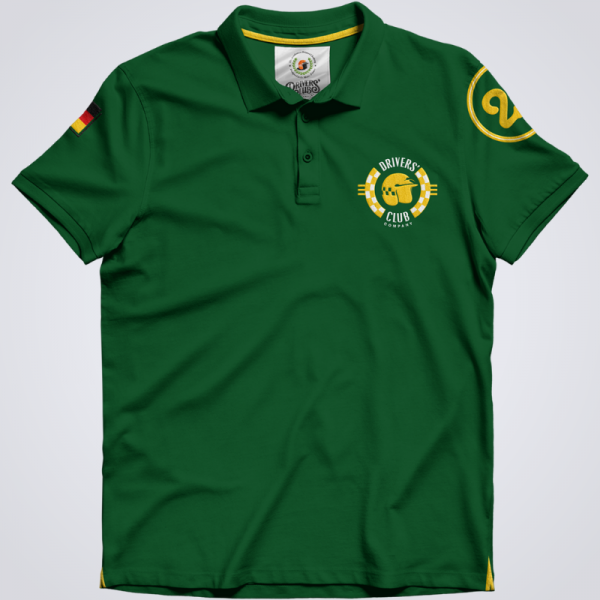  
copy of Polo Green Hell
Très classique polo manches courtes en coton piqué 220 g couleur vert sapin pour rappeler celles de la pittoresque région de l'Eifel.
Finitions soignées avec broderies et inscriptions. Vêtement 100 % coton.
Votre polo vous sera livré dans un magnifique coffret cadeau.
Pour assurer un entretien optimal et conserver votre vêtement dans le temps, nous vous conseillons de laver votre polo à 30° et de ne pas utiliser de sèche-linge.
Il est préférable de le laver et le repasser à l'envers en prenant soin de protéger les différents marquages de la source de chaleur
Description
The Green Hell
Der Ring, Nordshleife ou tout simplement Nürburgring. Autant de noms pour nommer certainement l'un des circuits les plus difficiles au monde.
Créé en 1925 et inauguré en 1927, ce tracé au cœur du massif de l'Eifel en Allemagne comporte 170 virages dont il parait il est impossible de se mémoriser le tracé.
A l'origine d'une longueur de 28,265 km, il est divisé aujourd'hui en 2 portions, la Nordschleife de 22,810 km et la Südscheilfe de 7,74 km.
Il fut le théâtre de nombreuses batailles de constructeurs et de courses mythiques (1000 km, 24 heures, Grand Prix d'Allemagne).
C'est Jackie Steward, triple champion du monde de formule 1 qui déclara un jour "This is the Green Hell". De son avis tous les pilotes en avaient peur.
The Green Hell où Niki Lauda eut son accident en 1976 lors du Grand Prix d'Allemagne.
You might also like